AngloGold Ashanti Malaria Control Ltd (AGA Mal)
AngloGold Ashanti (AGA) is a global gold mining company and the world's third largest gold producer. Headquartered in Johannesburg, South Africa, AGA has 20 operations on four continents. In Ghana, AngloGold Ashanti operates the Obuasi and Iduapriem mines located in the Ashanti and Western regions respectively.
In the company's 2004 Report to Society, malaria was identified as the most significant public health threat to AngloGold Ashanti's operations in Ghana, Mali, Guinea and Tanzania. AGA realised the adverse impact malaria was having on its Ghanaian business operations, workforce and on people in its operational community. Areas around Obuasi were particularly vulnerable because of "galamsay" – small-scale, often unregulated surface mining. Galamsay provides both a sanctuary for mosquito breeding as well as a threat to malaria vector control intervention. 48% of all patients in health facilities in Obuasi were diagnosed with malaria. Malaria was one of the top 10 killer diseases around Obuasi, accounting for 22% of deaths (AngloGold Ashanti).
In 2005, the Obuasi Mine Hospital (Edwin Cade) recorded on average 6,800 malaria cases each month. Of these, 2,500 were mine employees. With an average of three days off per patient, an estimated 7,500 man-shifts were lost per month. This coupled with the slow work rate during recuperation, resulted in a major loss in production. Cost of medication for malaria treatment was USD 660,000 per annum. School and work absenteeism was rife.
This led to the decision to put in place a program to deal with the disease in the area. In 2005, the company initiated an integrated malaria control programme within Obuasi Municipality in the Ashanti Region of Ghana with the aim at reducing the malaria burden among its employees by 50% within a period of two years. The President of the Republic of Ghana opened the Obuasi Malaria Control Centre (OMCC) at its Obuasi site in April of 2006. Although primarily the headquarters for the Obuasi programme, OMCC would also serve as a training centre for AGA malaria projects at other mines. It is also serves as a satellite research centre for academia, the public sector and other agencies.
AngloGold Ashanti supported the programme initally with $1.7 million and thereafter with $1.3 million per year. The integrated malaria control program consisted of:
Vector control – indoor residual spraying (IRS)
Distribution of insecticide treated nets (ITNs)
Larviciding of breeding areas
Environmental management
Surveillance, monitoring & evaluation/research
Insecticide resistance management/rotation
Information, education, communication
Early, effective diagnosis & treatment
The success of the AGAMal malaria control program was enormous. The target to reduce malaria cases in the mines hospital to 50% in two years was achieved within 13 months only.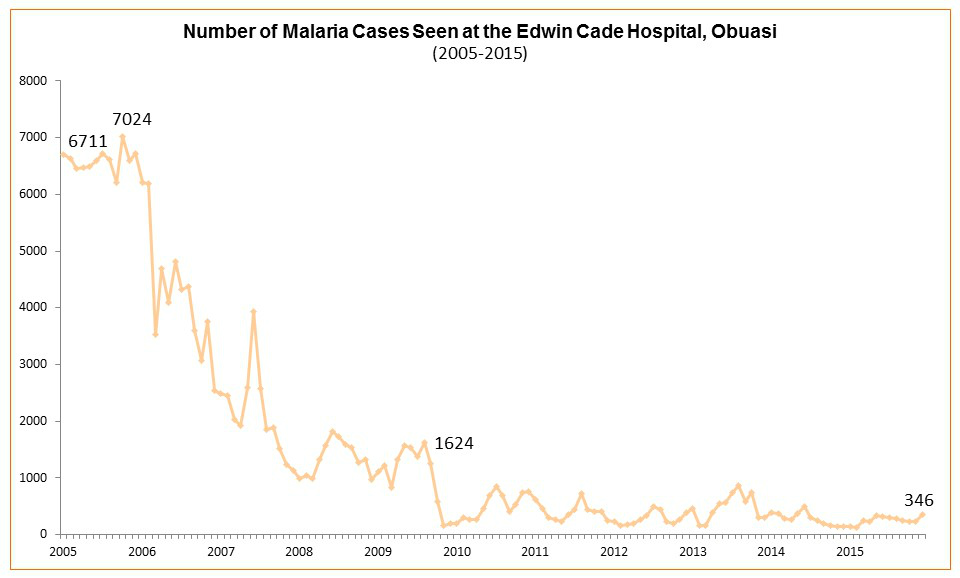 The impact on the productivity of AngloGold Ashanti workers and on the AGA expenditures on malaria treatment was significant: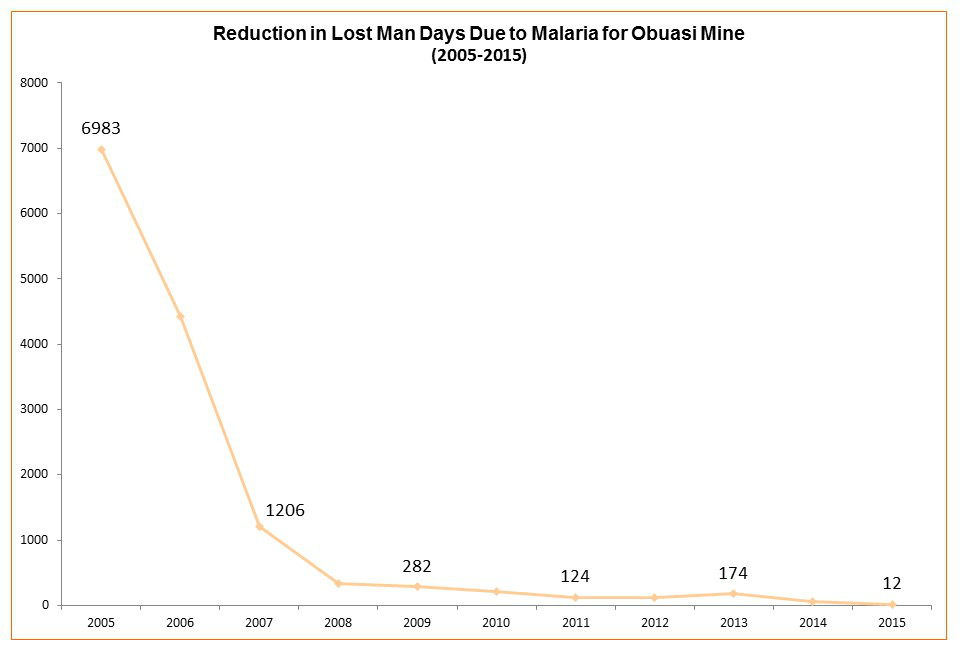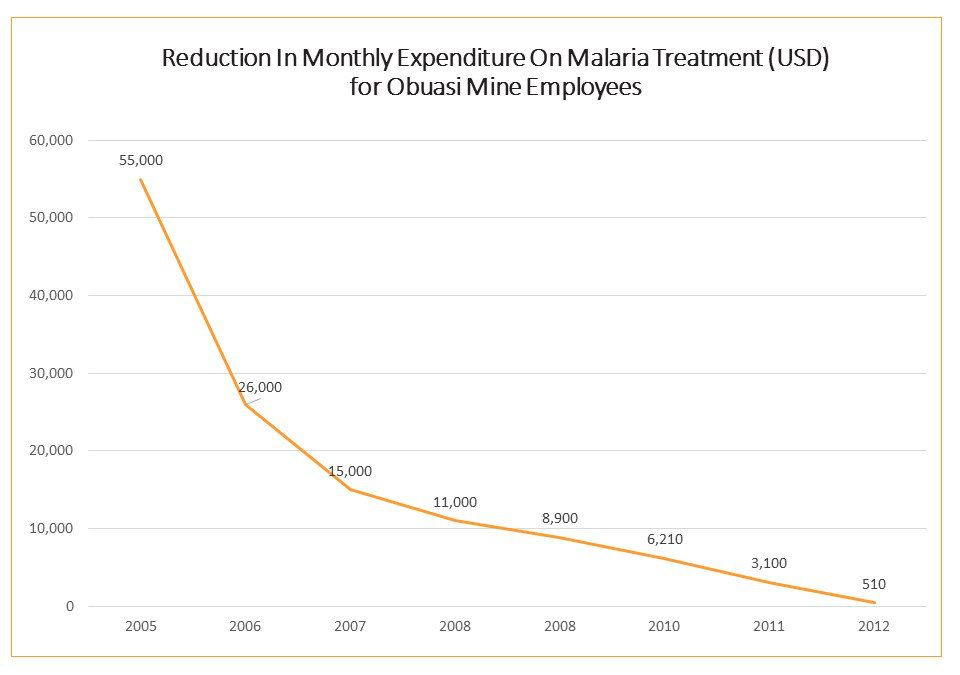 In 2009 an independent entity, the AngloGold Ashanti (Ghana) Malaria Control limited (AGAMal), was created. In 2010, AGAMal was the first private company to become a Principal Recipient of the Global Fund.
Read more about AngloGold malaria control (The Guardian)